Hello! You are receiving this email because you signed up to monthly updates from the Patient-Led Research team. If you have been forwarded this email and would like to get your own copy,
subscribe here.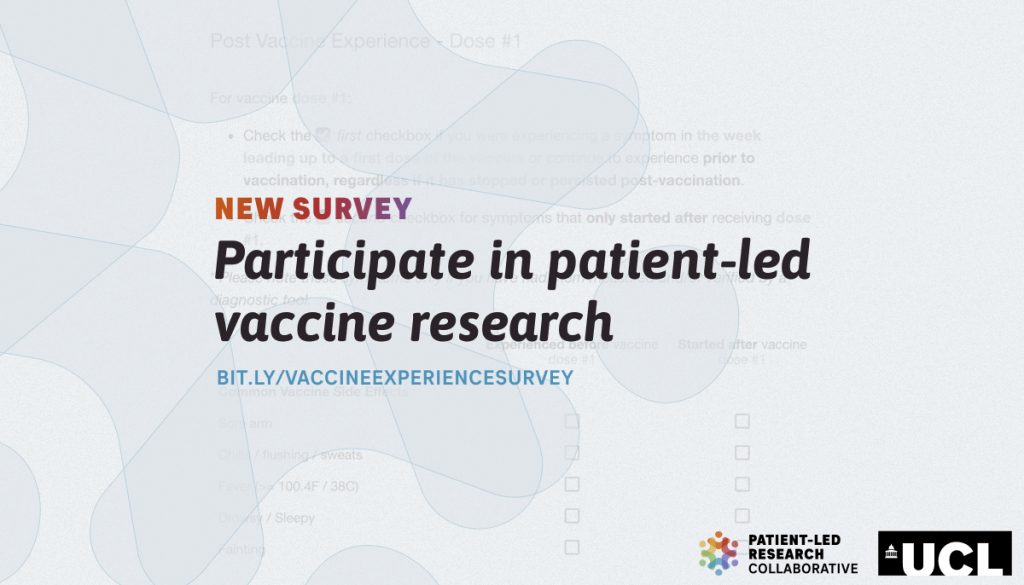 Over 2,000 people have participated in our vaccine study! Thank you everyone who has taken the time to contribute to patient-led research. As more folks are getting fully vaccinated, we are seeing from ourselves and from the Long COVID community that relapses and side-effects are sometimes difficult to distinguish. Any benefits from the vaccine can be temporary. We encourage people who have received the COVID-19 vaccine and it has been 5 weeks or longer from the final dose to participate in our survey.
The survey takes around 10-30 minutes to complete. You can take this survey regardless of Long COVID conditions.
Share our Survey
Help us by sharing this short study bit.ly/vaccineexperiencesurvey with those who have been vaccinated. Are you a community leader? Shoot us a note when you share our survey so that we can thank you in our upcoming report!
Long COVID Research & Policy Updates
At the collaborative, we believe research and patient advocacy go hand in hand. As governments, research agencies and public health bodies slowly redirect resources from acute COVID care towards long-term pandemic recovery, Long COVID patient voices are more needed than ever. We've been busy these days!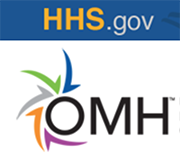 POTUS Health Equity Task Force
Last week, we were honored to have Lisa McCorkell and Hannah Davis present to the POTUS Health Equity Task Force on Long COVID. We've made our slides available.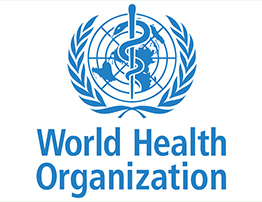 WHO Research Agenda
Hannah Davis presented at the WHO on emerging science of Long COVID and key knowledge gaps. She shared some objectives in the overall global research roadmap. Including post-viral research, accessible diagnostics, and strategies that improve patient-centered outcomes.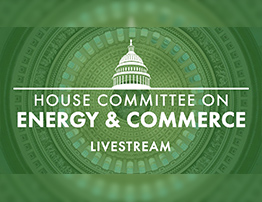 US House Hearing
Patient-Led Research Collaborative leader and Long COVID patient Lisa McCorkell shares her testimony at The Subcommittee on Health's hearing on "The Long Haul: Forging a Path through the Lingering Effects of COVID-19" on April 28, 2021.
Read Lisa's written testimony.
Recommended reading

Estimated Disease Burden of COVID-19
The United States has had over 33 million reported COVID-19 infections. However, this number does not include infected people who were unable to access testing, were given false negative test results, or cases that went undetected or unreported for other reasons. The CDC estimates that, in America, the total number of COVID-19 cases between February 2020 and March 2021 was 114.6 million – meaning that only about one in four cases of COVID-19 have been officially reported. This number is critically important in order to understand the true impact of COVID-19 and to plan and allocate resources.
Participate in Immunology Research by Yale
Our collaborator at Yale school of medicine is looking for participants for an important Long COVID study on immune biomarkers. The purpose of the study is to measure changes in immune response and Long Covid symptoms before and after getting the COVID-19 vaccine. To participate, you must be able to commute to Yale to participate in blood draws, and have not yet received the first dose of a vaccine. Read more about the study.
The PLRC team worked closely with Yale researchers to refine a patient-driven process and ensured that their surveys are inclusive of the Long COVID experience. If you are interested, please contact the study investigators covidrecovery@yale.edu and let them know we referred you. 🙂
Collaborating with Patient-Centric Best Practices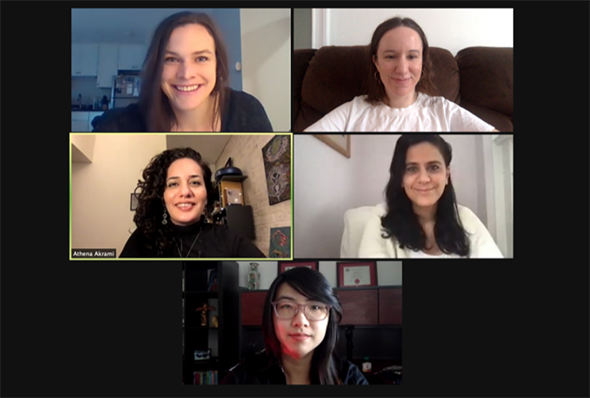 Behind the scenes, our team is made up of researchers who are also Long COVID patients living with symptom relapses and ongoing disability. We are grateful towards allies in the chronic illness community for pioneering concepts we have adopted to run our team sustainably. We would like to share some of our patient-centric best practices here to encourage folks to adopt these mindful practices while working with Long COVID patients and communities like ourselves.
Account for fluctuating energy levels
Symptom relapses are an unpredictable reality when living with long COVID. This is why PLRC is co-led by 5 (very amazing) team leads who step in for one another. We value collaborators who recognize this collectivist team dynamic and respect the careful balance between personal health and contribution.
Prioritize asynchronous communication
Meetings that drag on can trigger post-exertional malaise, a very common Long COVID symptom. We ask that requests for our team members come in writing and come with a clear deadline. Our team works asynchronously and are responsive with written communication.
Share agendas and action items
If a meeting is necessary, team members prefer to be given a few days of heads up to help set aside our energy. We also appreciate an agenda and a clear cut off time. As some team members with Long COVID experience brain fog, we encourage collaborators to check in afterwards and share actionable items.
Going Forward
Phew, it has been so busy on the team that we didn't get to send a newsletter last month! If you are among the two-thirds of participants from our last study who have had to adjust to work after illness, we empathize with your struggles. We are pacing ourselves and advocating for equitable return-to-work policies. As PLRC continues to grow, we look forward to evolving best practices both on our team and in our partnerships. Our goal is to share learnings and empower more teams to invite patients to the table.
Interested in collaborating with us? Email us and tell us a little about you or your team. We are always on the lookout for collaborators who put patients at the forefront of research.
We hope you have a lovely and restful June. See you next month!
-Hannah Wei from the Patient-Led Research Collaborative
---