👋🏼 Hello! You are receiving this email because you were previously invited to take part in a COVID-19 patient experience study conducted by the Patient-Led Research team. We thought you'd be interested to hear our study results.👇🏼

Happy 2021! It's been a very hectic December us, and we are proud to present our newest preprint:
"Characterizing Long COVID in an International Cohort: 7 Months of Symptoms and Their Impact"
This is the first study on COVID investigating 3762 patients beyond 6 months of illness, tracking the prevalence of 205 symptoms in 10 organ systems. In this paper, we focused on mapping the longer-term impact of COVID-19 on health, work, and returning to baseline.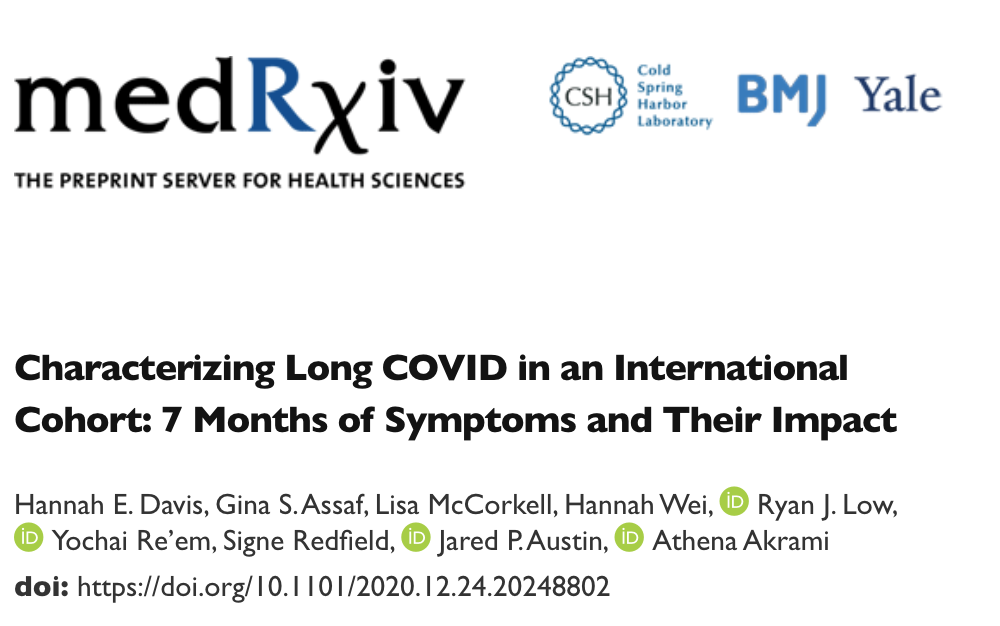 💡 What is a preprint and how to read one
A preprint is a full draft research paper that is shared publicly before it has been peer reviewed. By sharing work early, researchers can accelerate the speed at which science moves forward. This also means that we be making revisions, and that figures are not finalized. There are a few caveats that we would like readers to keep in mind:
The data presented in this preprint focuses on symptom profile and duration of Long COVID. It doesn't speak to the prevalence of Long COVID among different demographic groups. We hope this study can offer initial insights to help inform future clinical studies that address broader populations.
The survey was open to anyone with COVID symptoms, including those who did not receive a positive PCR test. This inclusive criteria was essential for understanding the experiences of those who have gotten sick in the spring when testing was scarce. Please read our dedicated section on symptoms and test results in the preprint for more analysis.​
✅ You can read and cite this preprint:
https://doi.org/10.1101/2020.12.24.20248802
⛔️ In order to maintain scientific integrity, our researchers will not be available for interviews about the contents of this preprint until the work has undergone peer review.
If you are a journalist, please review guidelines on media coverage of preprints, and reach out to team@patientresearchcovid19.com. We will reach out once we are ready to speak with press.
Key findings

The most frequent symptoms reported after six months were fatigue (77.7%), post-exertional malaise (72.2%), and cognitive dysfunction (55.4%).
Out of 205 symptoms tracked over time, 203 symptoms were consistent between positively and negatively tested groups. Only the prevalence of having a loss in smell or taste was significantly different. This is consistent with what we've found in our first study, as well as Mt. Sinai's findings.
In those who recovered within 90 days, the average number of symptoms peaked in the 2nd week of illness with 11.4 symptoms. In those who did not recover within 90 days, the average number of symptoms peaked in the 2nd month of illness with 16.5 symptoms.
85.9% respondents experienced relapses, with exercise, physical or mental activity, and stress as the main triggers.
86.7% of unrecovered respondents were experiencing fatigue at the time of survey, compared to 44.7% of recovered respondents.
45.2% reported requiring a reduced work schedule compared to pre-illness and 22.3% were not working at the time of survey due to their health conditions.
More findings
Check out these accessible Twitter threads compiled by our researchers Athena and Hannah Davis for more findings from our paper.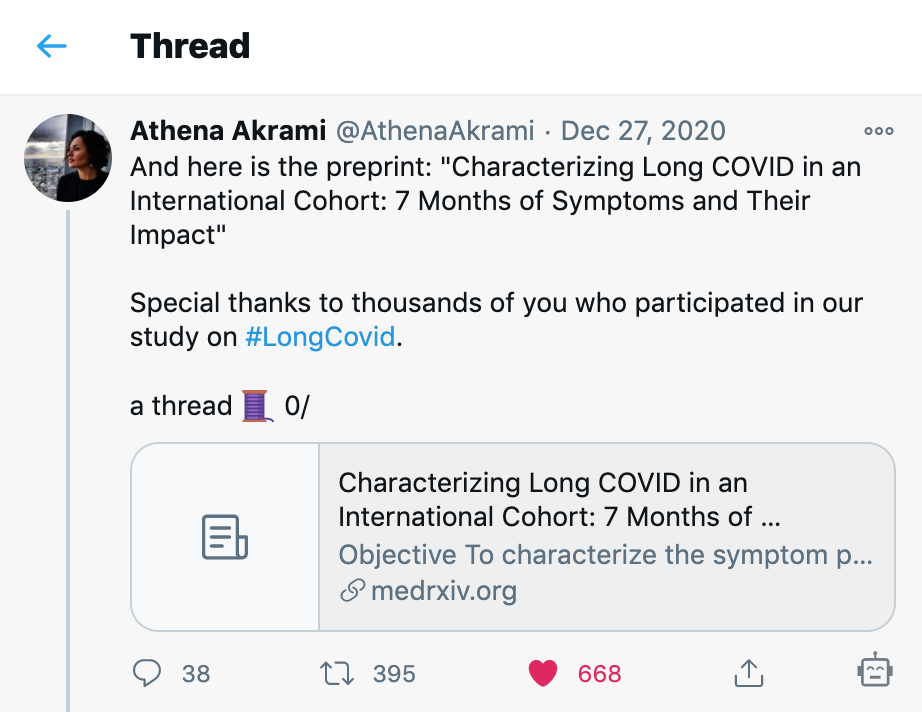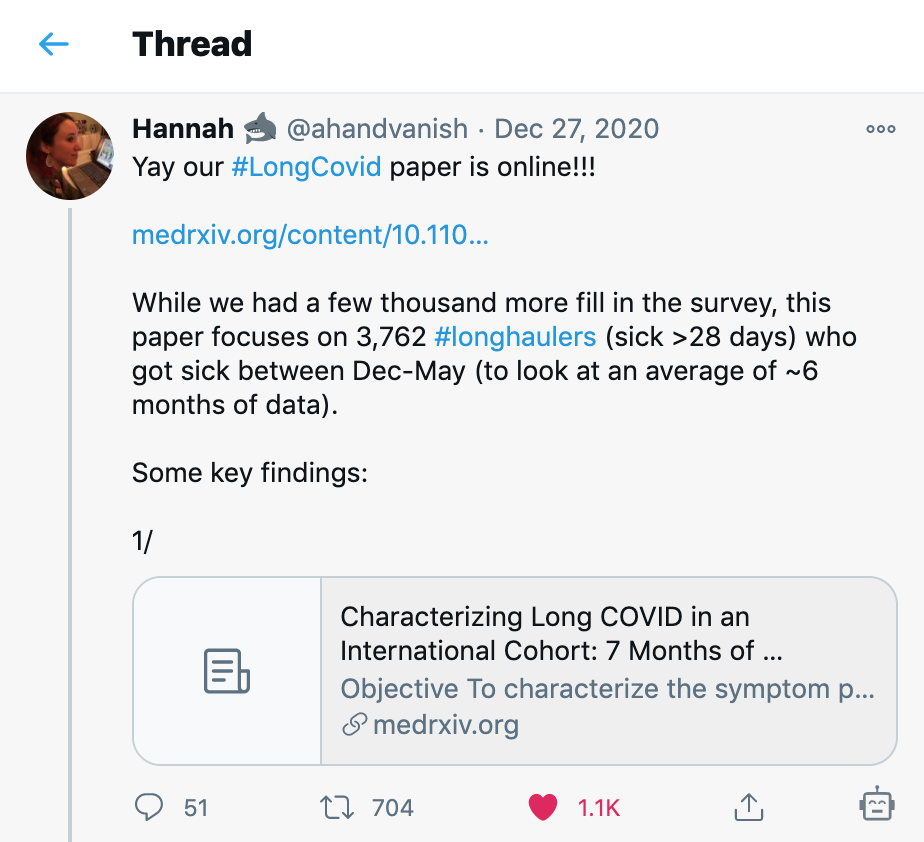 Participate in patient-led research
If you missed out on participating in this study last fall, don't worry, this paper is one of many that we will write with over 8000 total respondents from our survey. The survey is still open for those who have contracted COVID-19, and we invite you to be part of a future paper or report from patient-led research.
We truly hope this preprint will initiate further research, recognition and care. As patients ourselves, we also hope our research brings empowerment and clarity to other COVID patients currently suffering from prolonged illness.
Please feel free to reach out to us with questions! As a patient-led initiative, we are happy to receive feedback, especially if something is confusing or you would like to leave us a note. Similarly, we encourage interested patients and researchers to reach out for collaboration. We know first-hand that patients are important experts in solving the puzzle of Long COVID, and we are eager to help amplify your perspectives.
Articles we recommend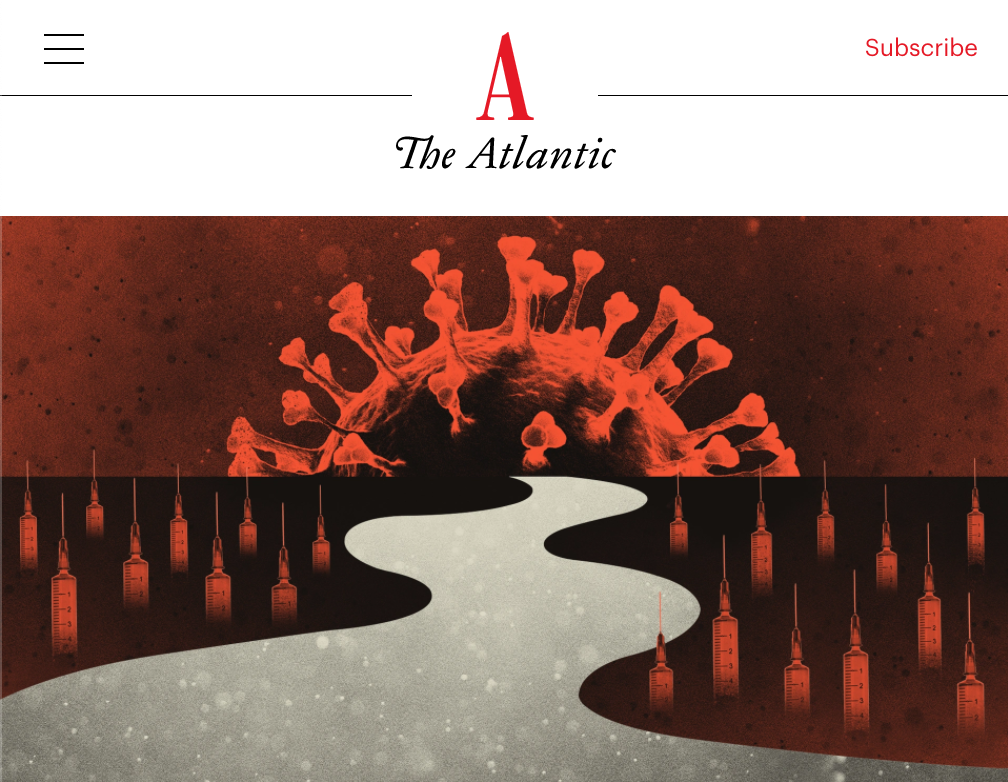 Where Year Two of the Pandemic Will Take Us – by Ed Yong
"I don't think we can ever be forgotten," Chimére Smith, a middle-school teacher in Baltimore, told me. "The health-care industry can never again say they don't know what a long-hauler is." But "nothing is happening fast enough to help the first wave of us," Davis told me. Some long-haulers have been diagnosed with chronic illnesses such as myalgic encephalomyelitis and dysautonomia but few specialists study or understand these conditions.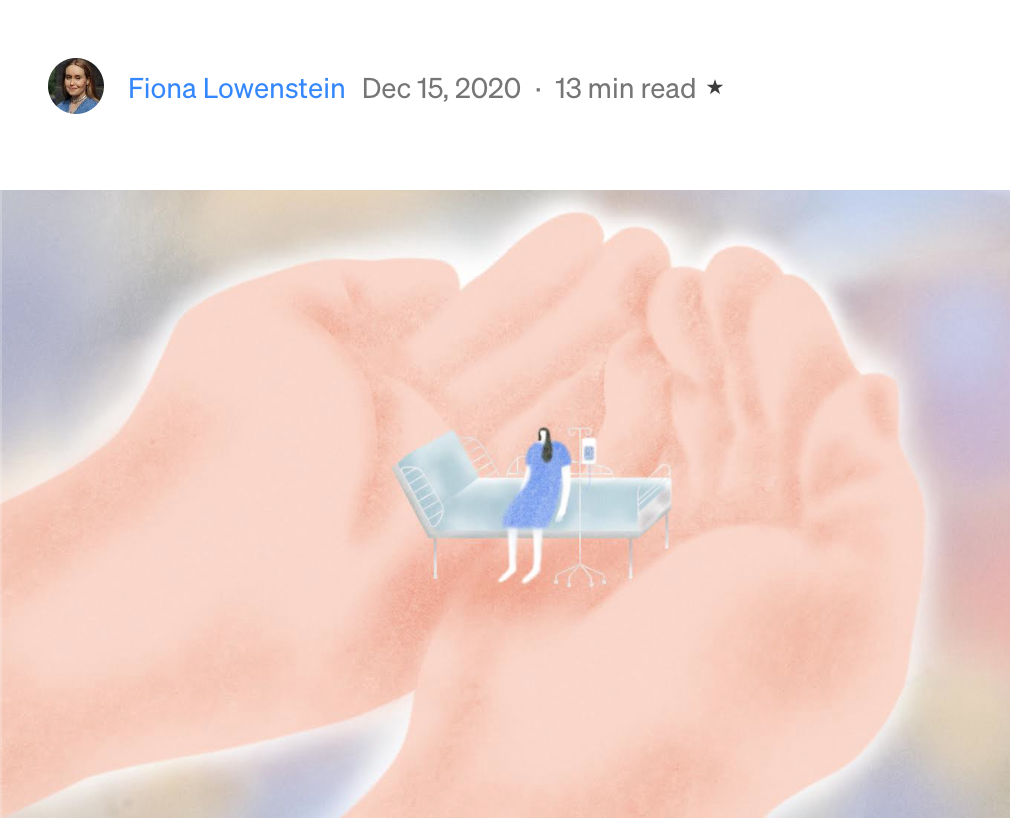 The People Who Care for Covid-19 Long-Haulers – by Fiona Lowenstein
My concern for Sunik's well-being demonstrates that care is not one-directional, even for people with Covid-19 and their caregivers. Since caregivers do not always recognize their own work, it sometimes falls on those they care for to do so. When I asked Juanita about the burden of caregiving, she told me, "It's not stressful. It's a joy."
Thank you!
This is an exciting time for our research team and COVID-19 patient-led movement. We thank all our participants, incredible team at Body Politic support group, our translators, allies in healthcare, patient-advocates and partners in global Long COVID patient support groups for their relentless support. It has been a challenging year. We are so grateful to contribute research alongside a generous and resilient community.
We hope you are staying resilient, too.
Warmly,
Hannah W. from the Patient-Led Research Team
PS. This email is part of a monthly newsletter that we send out to more than 8000 readers. If you've found this issue valuable, we hope you stick around for next month's issue. If not, simply unsubscribe below and you won't hear from us again. ✨